Dear visitor,
this is the homepage of German artist Meune Lehmann from Nortorf.
In spring of 2005, I had to familiarize myself within a few weeks' time with homepage design and HTML programming, two tasks that I was absolutely clueless about at the time.
From early on, our objective was to create and go online with an extensive picture gallery on a website that was both visually attractive and easy to use.
I am certain that we achieved this goal to a certain extent and hope that you willl enjoy and find pleasure in browsing through this website.
If, however, you still happen to notice any mistakes or weaknesses, I'd appreciate if you let me know.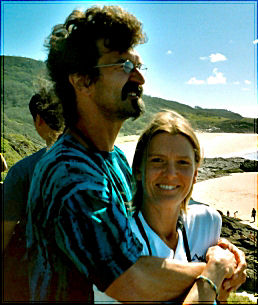 The makers of this website
on Fraser Island, Australia in 2003
I am particularly grateful to David Ekholm for creating JAlbum, a well-wrought and easy-to-use program to generate picture albums in a simple manner.
Of course, creating a gallery of Meune's paintings has been the reason for and the focus of this website.
JAlbum immediately proved to be the perfect tool to successfully create a presentation of her paintings.
In addition, I'd like to thank Stefan Münz for SELFHTML, a website that provides an extensive account of the programming languages used in the WorldWideWeb and contains the relevant aids and explanations as well as further links on this topic.
Since I discovered "Phase5", an excellent HTML editor created by Ulli Meybohm, I write and edit my source texts almost exclusively with this program.
Phase5 is available under www.qhaut.de, and - just like all the other programs I use and that are mentioned above - it's freeware!


is the first website that I ever created. It was followed by various other art and club projects and slowly led me to rate webdesign among my favorite and most interesting hobbies.
It goes without saying that I still really enjoy working with Meune on this project and that I love her just as much as her beautiful paintings.
April 2006
Hendrik Lehmann